Green Glue claims it takes 10 days or so for the soundproofing compound to work and then it gets better as time goes on. Well of course I wanted to test at at day 1. I cranked up the stereo closed the door and walked around. In the back I couldn't hear the stereo at all, but on the sides I could hear it faintly and in front of the door it was still pretty loud. A lot better, but I wasn't happy with it. The door is hollow and is made out of some really thin sheet metal. I decided I needed to make another door I can slide into place to help out. Here's some pictures of the door I made by using my last sheet of drywall and pieces of drywall I didn't need: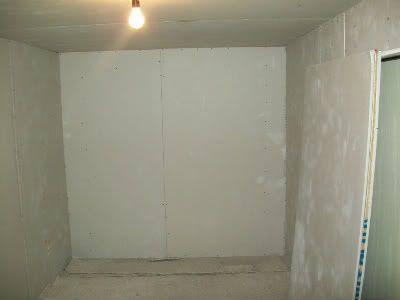 The Sandwich:
This turned out to work great! Also the same day I made that door, I noticed a neighbor down the street had carpet laying in her front yard. I went over and looked at it and it was in great shape. I asked her if I could haul it off and she was excited by my offer, she didn't know how she was going to get rid of it. I took it home and cut a piece of it and screwed it to the metal door and then laid a large piece of it on top of the existing carpet I got from the church. I had some extra scraps left, as you can see in these next pictures I hung those up as well: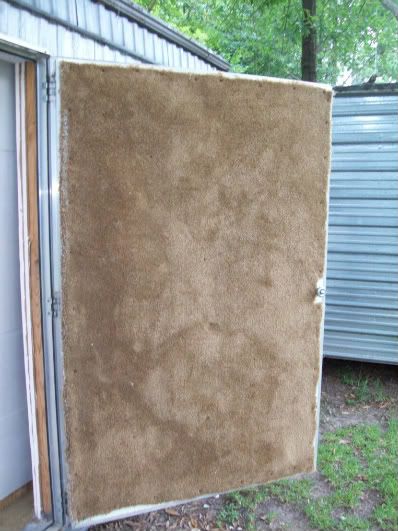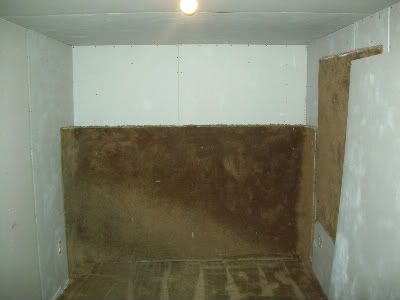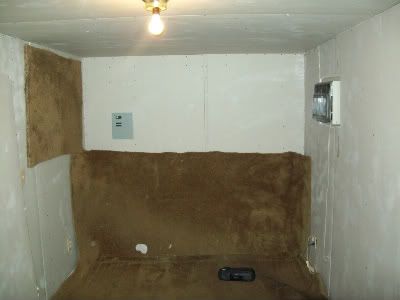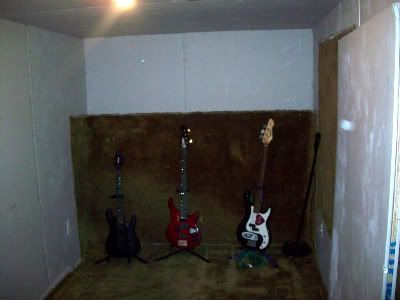 I tested with the stereo again and between the carpet and the makeshift door, it worked great! I could barely hear the stereo! Inside the shed you can't hear anything outside and has that creepy quiet feel like in a recording studio. The next day I hauled out the drum set to see how loud they were going to be and if I should expect the neighbors to be calling the police: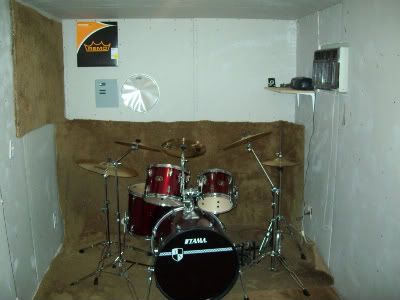 I got my daughter to pound on them and even with the makeshift door not all the way in place (so I could get back in! Its heavy!) I could barely hear them outside! Yay!! I've been playing on them after work and ask my wife if she can hear them and she says no. It worked! I still have the two Green Glue sealant compounds left, I think I am going to use them around the frame of the metal door. I think the only thing left to do is make it more aesthetically pleasing, will probably paint it or hang posters up or something.